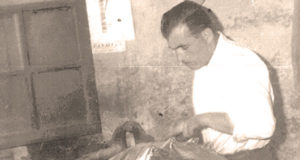 Gaetano Salmista has been working in the field of lost-wax casting for more than 25 years, perpetuating a family tradition that has been handed down through three generations.
Winner of the 2009 'Maestro Geppetto d'Oro' award and the 'Incontri con l'arte' competition in 2010. Teacher of lost-wax casting technique; courses and workshops at the Istituto d'Arte di Porta Romana (Florence), the Florence Academy of Art (Florence) and Casa Benvenuto Cellini (Vicchio del Mugello).
Art'ù di Gaetano Salmista artistic foundry offers technical/artistic support based on years of experience and collaboration with the most renowned Italian and international artists.
The lost-wax casting process (with luto or ceramic shell  ) is entrusted to highly-qualified personnel who work in full respect of the original model and the artist's vision. The negative, the wax, the casting, the chasing of the bronze, the fascinating final patination: all the phases in creating an artwork are carried out with attention and professional expertise – as are transport, if requested, and installation of the finished work. The foundry has produced many monumental works in recent years for many satisfied clients, both Italian and foreign from all parts of the world.
Among the many services offered by the foundry are modelling, enlargement, casting in metals besides statuary bronze (including aluminium), production of works from 3D scans and sculptures in alternative materials – as well as restoration of artworks. We can reproduce contemporary works and works from any historical period, even from photographs. Our logistics office offers full assistance for international shipping.
In recent years, our studio has organised events and exhibitions at prestigious locations in the Florence area and in many art sites around Italy.
Over the years we have worked for:
Teatro Comunale – Firenze
Museo Bardini – Firenze
Shakespeare Garden in Stratford on Avon, UK (2006-2008)
Museo Archeologico della Valle dei Templi, Agrigento
Museo Casa di Dante, Firenze
Chiesa Santa Maria la Veterana, Bari
Venice Art Biennial
Palazzo della Regione, via Cavour, Firenze (2007)
Palazzo Piccolomini, Pienza
Forte di Belvedere, Firenze (2006)
Moretti Art Gallery, Firenze
Gormley's Gallery, Dublin
 Bagno a Ripoli Art Biennial (2008)
Artisti Fiesolani Group Exhibition, Fiesole (2008)
Sala d'Arme Palazzo Vecchio, Firenze
Artisti Fiesolani Sculpture Exhibition, Fiesole (2009)
Primo Conti Centennial Exhibition, Fiesole (2009)
Beijing Art Biennial
Cattedrale St.Jhon the Divine, New York
Teatro Romano, Fiesole
S.Alessandro, Fiesole
Porta della Vittoria, Ragusa
Palazzo Medici Riccardi, Firenze
Accademia delle Belle Arti, Firenze
Giardino di Boboli, Firenze
Opificio delle Pietre Dure, Firenze
Opera del Duomo, Firenze
Dublin University, Irland
Slieve Donard Hotel, Newcastle UK
Hotel Villa Athena, Agrigento
Banca di Cambiano, Firenze
Blain Southern Gallery, London UK
Bad Ragartz – Sculpture Triennal, Bad Ragaz – Switzerland